The customer
Software as a Service Fintech company

Oradian is a financial inclusion Software-as-a-Service (SaaS) company focusing on providing services that enable microfinance institutions to control and manage their portfolios. Oradian operates in countries where there are significant barriers to access financial products for many people. Oradian's flagship core banking product Instafin is designed to work with low Internet connection speeds, enabling serving clients in rural areas with limited network bandwidth.
---
The challenge
Coping with various customization requests
"Once we started supporting multiple customers in different countries, we received various customization requests which were hard to handle in an off-the-shelf product. In addition we started to sign up more and more sophisticated customers who wanted to be able to immediately configure their own reports" - Julian Oehrlein (co-founder of Oradian).
Since Oradian wanted to use the same code across all customers and avoid customizations per customer, not many options were available to resolve the issue.
---
The solution
Allow customizations by end-user
"Most requests for report customizations stopped after customers were able to adjust the template themselves. The only relevant requests were to expose more tags so our implementation team and customers could fine tune the expected output" - Julian Oehrlein.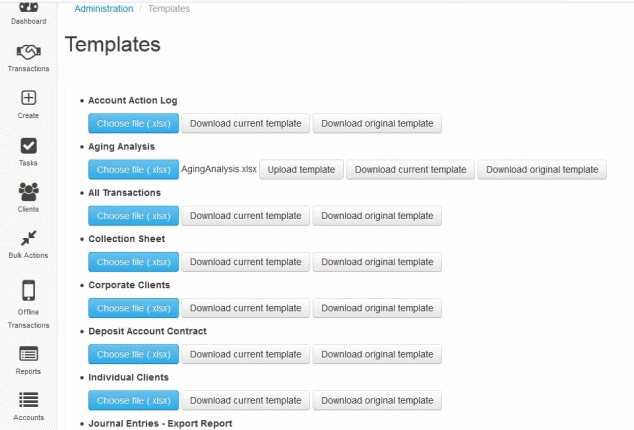 "Ability to combine user defined ad-hoc report configuration with user defined template for that report turned out to be a killer feature. Customers are impressed during presentations when we show them complex Excel documents, prepared by our domain experts, which provide deep insights into operational performance." - Julian Oehrlein.
---
The result
Distinguishing feature
"Our reporting module grew from being the weakest part of our offerings, to the strongest one".

Templater provided us with several benefits:
reporting module became highly customizable
domain experts became able to provide deep insights into operational data by combining it with Excel
potential clients are blown away by the amount of data we can present and ways in which we can present it
customers and our implementation teams love being able to tweak the exports without raising change requests or waiting for development's involvement
---